---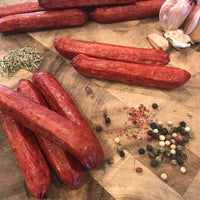 Snack Sticks - the perfect on-the-go treat that will satisfy your cravings any time of the day. Here's why you'll love them:
Delicious Flavor: Our Snack Sticks are crafted with care to deliver a mouthwatering taste that will have you coming back for more. Made from high-quality pork, they offer a smoky and robust flavor reminiscent of perfectly seasoned pepperoni.
Ready-to-Eat Convenience: Say goodbye to hunger pangs and hello to instant satisfaction! These snack sticks are conveniently ready to eat, making them the ideal choice for busy individuals, road trips, hiking adventures, or simply enjoying a quick snack break. Just grab one and indulge in the savory goodness.
Endless Pairing Possibilities: Snack time just got even more exciting! Our Snack Sticks are incredibly versatile and pair wonderfully with a variety of accompaniments. Enjoy them on their own for a quick protein-packed snack, or get creative by pairing them with fruits, cheeses, or nuts for a delightful charcuterie board. The options are endless, and the flavors will harmonize perfectly with your favorite combinations.
Cured, Cooked, and Hickory Smoked: We take pride in our artisanal curing process, ensuring that each stick is perfectly seasoned and cured to perfection. These snack sticks are then cooked and hickory smoked to infuse them with a rich, smoky flavor that will tantalize your taste buds with every bite. The result is a snack that's bursting with savory goodness and a satisfying texture.
Whether you're looking for a quick and tasty snack or seeking to enhance your charcuterie experience, our Snack Sticks are the ideal choice. With their delicious taste, convenience, and endless pairing options, these treats are sure to become your go-to snack for any occasion. Indulge in the irresistible flavor and savor the moments of pure snacking bliss.