---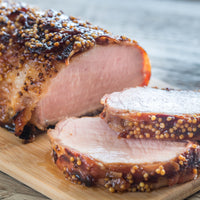 Preparation Ideas:
Teriyaki Glazed Pork Tenderloin: Marinate the tenderloin in a mixture of soy sauce, ginger, garlic, honey, and sesame oil for at least 30 minutes. Grill or roast the marinated tenderloin until cooked through, basting with the marinade occasionally. Serve it sliced with a drizzle of the reduced marinade on top.
Apple-Stuffed Pork Tenderloin: Cut a slit lengthwise down the center of the tenderloin and stuff it with a mixture of diced apples, breadcrumbs, sage, and a touch of brown sugar. Roast the tenderloin until cooked through and the apple filling is tender. Slice and serve with a side of roasted vegetables.
Balsamic Glazed Pork Tenderloin: In a small saucepan, combine balsamic vinegar, honey, Dijon mustard, and minced garlic. Simmer the mixture until it thickens slightly. Season the tenderloin with salt and pepper, then brush it generously with the glaze. Roast the tenderloin until done, basting with more glaze during cooking. Slice and serve with roasted potatoes and a green salad.
Herb-Crusted Pork Tenderloin: Combine fresh herbs like rosemary, thyme, and parsley with breadcrumbs, garlic, salt, and pepper. Press the herb mixture onto the tenderloin, ensuring it coats all sides. Roast the tenderloin until cooked through and the crust is golden brown. Serve with a side of mashed potatoes and steamed veggies.