---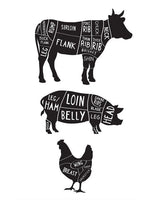 Introducing the Meat Club - An Exclusive Meat Subscription!
Are you a meat lover seeking a convenient and affordable way to enjoy high-quality cuts of beef, chicken, and pork? Look no further than our Meat Club! With our subscription service, you can create a customized package of delectable meats every month, all at a fantastic value.
Here's how it works:
Choose from our carefully curated selection of Beef, Chicken, and Pork, which changes monthly. You'll have the opportunity to explore different cuts and flavors, ensuring a diverse and exciting culinary experience.
Each subscription package costs between $38-$45 per month, offering exceptional value for the quality and quantity of meat you'll receive. The package itself is worth an impressive $55-$65+, providing you with a delightful assortment of premium meats.
Your package will be conveniently delivered right to your doorstep once a month. Say goodbye to the hassle of visiting multiple stores to find the perfect cuts, we bring the meat directly to you.
Subscription Options:
Join the Meat Club for:
a 3-month subscription at $45 per month
a 6-month subscription at $42 per month
or a 12-month subscription at an incredible rate of around $38 per month.
Need to skip a month due to vacation or a full freezer? No problem! You have the option to roll over a month, ensuring you get the most out of your subscription.
As a Meat Club member, you'll not only enjoy the monthly meat package but also receive additional perks:
Each month, you can redeem a package worth $55-$65, depending on your choices. Explore new flavors and savor a variety of cuts to elevate your culinary repertoire.
Plus, as a special thank you for being a valued member, you'll receive a 5% discount on any additional orders you place while being part of the Meat Club. It's our little way of showing appreciation for your loyalty.
Curious to see what previous months' selections looked like? You can easily browse through June's and July's selections on our website, giving you a glimpse into the mouthwatering options that await.
Join the Meat Club today and embark on a meat-filled journey that combines convenience, value, and exceptional taste. Elevate your cooking, explore new flavors, and enjoy the finest cuts of meat delivered directly to your door. Don't miss out on this exclusive opportunity - subscribe now!