---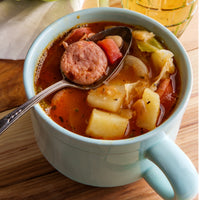 Our Hickory Smoked Kielbasa is bursting with smoky goodness, and is fully cooked, and cured. Pan fry/Grill to get the casing crispy.
Recipe Ideas:
Grilled Kielbasa Sandwich with Caramelized Onions and Mustard Sauce:
Ingredients:
Hickory smoked kielbasa
Soft hot dog buns
2 large onions, thinly sliced
2 tablespoons butter
2 tablespoons brown sugar
1 tablespoon balsamic vinegar
Salt and pepper to taste
Dijon mustard
Pickles (optional)
Instructions:
Preheat your grill to medium-high heat.
Grill the kielbasa:
Caramelize the onions:
In a large skillet, melt the butter over medium heat.
Add the thinly sliced onions and cook until they start to soften, about 5 minutes.
Sprinkle the brown sugar over the onions and continue cooking, stirring occasionally, until the onions become golden brown and caramelized, approximately 15-20 minutes.
Add the balsamic vinegar and cook for an additional 2 minutes.
Season with salt and pepper to taste
     3. Prepare the mustard sauce:
In a small bowl, mix Dijon mustard with a touch of brown sugar to taste. Adjust the sweetness according to your preference.
      4. Assemble the sandwich:
Slice the hot dog buns open, creating a pocket for the kielbasa.
Spread a generous amount of the mustard sauce on the insides of the buns.
Place a grilled kielbasa link in each bun.
Top the kielbasa with a generous amount of caramelized onions.
Optionally, add pickles on top for an extra tangy kick.
Serve the delicious grilled kielbasa sandwiches hot, and enjoy the perfect combination of smoky kielbasa, sweet caramelized onions, and tangy mustard sauce. It's a crowd-pleasing dish that will satisfy your cravings for a hearty and flavorful meal.
Kielbasa and Potato Skillet:
Slice the hickory smoked kielbasa into bite-sized pieces.
In a skillet, sauté sliced potatoes until they are golden brown and tender.
Add the sliced kielbasa to the skillet and cook until heated through.
Season with salt, pepper, and your favorite herbs for added flavor.
This hearty skillet dish is a satisfying one-pan meal.
Kielbasa and Sauerkraut Stew:
In a large pot, sauté chopped onions and garlic until they are fragrant and translucent.
Add sauerkraut, sliced hickory smoked kielbasa, and diced potatoes to the pot.
Pour in chicken or vegetable broth, and simmer until the flavors meld together and the potatoes are tender.
Season with caraway seeds, salt, and pepper for an authentic taste.
This comforting stew is perfect for cozy nights.