---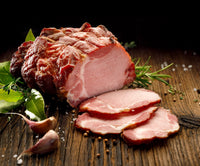 Hickory Smoked Uncured Boneless Ham: A Flavorful Delight for Every Occasion!
Key Features:
Uncured Goodness: Our ham is free from artificial nitrates and nitrites, providing a healthier option without compromising on flavor. We believe in delivering a product that is both delicious and mindful of your well-being.
Boneless Convenience: We understand the importance of ease and convenience in your kitchen. Our boneless ham is carefully deboned, making it effortless to slice and prepare, saving you time and effort.
Hickory Smoked Perfection: Our hams are meticulously smoked using real hickory wood, infusing it with a robust, smoky flavor that elevates every bite. The result is a tantalizing aroma and a taste that will leave your taste buds craving for more.
Cooking Tips and Preparation Ideas:
Classic Glazed Ham:
Preheat your oven to 325°F 
Score the surface of the ham in a diamond pattern.
Place the ham in a roasting pan and brush with a glaze of your choice, such as honey mustard, brown sugar, or maple syrup.
Bake for approximately 15 minutes per pound, or until the internal temperature reaches 140°F.
Allow the ham to rest for a few minutes before slicing and serving. It pairs beautifully with roasted vegetables and mashed potatoes.
Ham and Cheese Sliders:
Preheat your oven to 350°F.
Slice the hickory smoked ham into thin, bite-sized pieces.
Split slider buns and layer with your favorite cheese, such as cheddar or Swiss.
Add a slice of ham to each bun and assemble the sliders.
Place the sliders in a baking dish and brush the tops with melted butter, garlic, and herbs.
Bake for 15-20 minutes, or until the cheese is melted and the buns are golden brown.
Serve warm as a crowd-pleasing appetizer or a delicious lunch option.
Ham and Vegetable Stir-Fry:
Slice the hickory smoked ham into thin strips.
In a hot skillet or wok, sauté your favorite vegetables, such as bell peppers, broccoli, carrots, and snap peas.
Add the sliced ham to the skillet and stir-fry until heated through.
Season with soy sauce, garlic, and ginger for added flavor.
Serve over steamed rice or noodles for a quick and satisfying meal.
With our Hickory Smoked Uncured Boneless Ham, the possibilities are endless. Whether you're hosting a special gathering or simply looking to elevate your everyday meals, our ham is the perfect choice. Order now and experience the mouthwatering flavors of our hickory smoked goodness!