---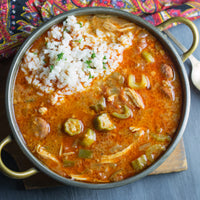 Hickory Smoked Andouille: A Cajun Delight with Endless Possibilities!
Andouille, a beloved staple of Cajun cuisine, adds a burst of flavor to classic dishes like Jambalaya, Red Beans and Rice, Country Boil, and so much more.
Each pack contains 1 lb of our expertly crafted Andouille, featuring 5 fully cooked and cured links. Here's why our Andouille stands out from the rest:
Hickory Smoked Flavor: Our Andouille is smoked with the irresistible flavor of hickory wood. This delicate smoking process creates a harmonious blend of flavors, making every bite a delightful experience.
Fully Cooked and Cured: We understand the importance of convenience in your kitchen, which is why our Andouille is fully cooked and cured. This means it's ready to use straight from the pack, saving you precious time without compromising on taste.
Cooking Tips and Recipes:
Jambalaya:
Sauté onions, bell peppers, and celery until tender.
Add sliced Hickory Smoked Andouille and cook until lightly browned.
Stir in rice, chicken or vegetable broth, diced tomatoes, and Cajun seasoning.
Simmer until the rice is cooked and flavors have melded together.
Serve hot and garnish with green onions for an authentic Cajun feast.
Hearty Red Beans and Rice:
Soak red kidney beans overnight, then drain and rinse well.
In a large pot, sauté onions, bell peppers, and celery until softened.
Add sliced Hickory Smoked Andouille and cook until flavors meld.
Stir in the soaked beans, chicken or vegetable broth, Creole seasoning, and bay leaves.
Simmer gently until the beans are tender and the flavors have developed.
Serve over steamed rice and enjoy a bowl of comforting goodness.
Country Boil:
Boil a large pot of water and add Old Bay seasoning, salt, and Cajun spices.
Drop in small red potatoes, corn on the cob, and sliced onions.
After a few minutes, add our Hickory Smoked Andouille and fresh shrimp.
Cook until the shrimp turn pink and the vegetables are tender.
Drain the pot and serve this seafood feast with melted butter and lemon wedges.
With our Hickory Smoked Andouille, your culinary possibilities are endless. Order now and unlock the authentic flavors of Cajun cuisine, bringing a touch of Louisiana to your table!