---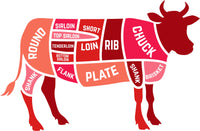 Introducing our Premium Half Side of Beef - A Cut Above the Rest!
Experience the epitome of exceptional taste and sustainable farming with our Half Side of Beef, also known as a Quarter Beef. Sourced from farmers Chad and Stephanie in Gibsonville, this selection of high-quality, individually packaged cuts will elevate your culinary prowess and redefine your beef-eating experience.
Here's why our Half Side of Beef is a game-changer:
Taste the difference: Chad and Stephanie's cows roam freely on over 300 acres of lush pasture, where they are rotationally grazed. They sometimes even share a pasture with pigs! This sustainable farming practice not only ensures the cows' well-being but also results in beef that is unparalleled in flavor and tenderness. Each bite will transport you to the rolling green pastures where these happy cows thrive, making every meal an unforgettable dining experience.
Unmatched variety: Indulge in a carefully crafted assortment of cuts, with each piece individually packaged and vacuum-sealed for optimal freshness. With approximately 120 pounds of beef, you'll have a diverse range of options to satisfy your cravings.
Our Half Side of Beef includes:
4-6 Ribeye Steaks (approximately 6 pounds)
4-7 NY Strip Steaks (approximately 3 pounds)
4 Filet Mignon Steaks (approximately 2 pounds)
6 Sirloin Steaks (approximately 5 pounds)
5 Flank Steaks (approximately 4 pounds)
1 Skirt Steak (0.5-1 pound)
4 Chuck Roasts (approximately 3 pounds each, totaling around 12 pounds)
3 Shoulder Roasts (approximately 3 pounds each, totaling about 9 pounds)
5 Round Roasts (approximately 3 pounds each, totaling around 12 pounds)
1 Eye of Round Roast (approximately 2 pounds)
2 Sirloin Tip Roasts (approximately 5 pounds total)
4-5 packs of Short Ribs (approximately 12 pounds)
12 packs of Burgers (6 oz patties, 3 per pack, approximately 1 pound each)
10 packs of Boneless Stew Beef (approximately 1 pound each)
2 Briskets (approximately 6 pounds total)
20-30 pounds of Ground Beef
Possible Substitutions: Stir Fry, Cubed Steaks, Ground Chuck, Ground Round, and Beef Chorizo
Exceptional value: While the retail value of our Half Side of Beef ranges from $1400 to $1500, we are proud to offer this premium selection at the unbeatable price of $1250. As a bonus, we provide free home delivery to the Triangle area, ensuring that this exceptional beef is delivered right to your doorstep for your convenience and enjoyment.
120-140 lbs of beef total (bones and organs available free of charge)
Total cost: $1,250