---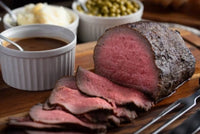 This lean and tender roast, is perfect for a variety of cooking methods including oven, crock pot, and Insta Pot.
Cooking Methods:
Oven: Preheat your oven to 325°F. Season with a generous amount of salt, black pepper, and garlic powder. For added flavor, consider rubbing the roast with a combination of dried herbs such as thyme, rosemary, and oregano. Place the roast in a roasting pan and cook for approximately 25 minutes per pound, or until the internal temperature reaches your desired level of doneness (135°F for medium-rare, 145°F for medium). Remove from the oven, cover loosely with foil, and let it rest for 10-15 minutes before slicing.
Crock Pot: Season with salt, black pepper, and garlic powder. Heat a skillet over medium-high heat and sear the roast on all sides until browned. Transfer the roast to the crock pot and add sliced onions, carrots, and potatoes. In a separate bowl, mix together beef broth, Worcestershire sauce, and a sprinkle of dried herbs like thyme or rosemary. Pour the mixture over the roast and vegetables. Cook on low for 6-8 hours or on high for 3-4 hours, until the meat is tender and easily pulls apart. Serve the roast with the vegetables and pour the flavorful juices over the top.
Insta Pot: Season with salt, black pepper, and garlic powder. Select the sauté function on your Insta Pot and heat some oil. Sear the roast on all sides until browned. Remove the roast from the pot and set it aside. Add sliced onions, minced garlic, and a dash of red wine or beef broth to the pot. Stir and deglaze the pot, scraping up any browned bits. Place the roast back into the pot and seal the Insta Pot. Cook on high pressure for approximately 20 minutes per pound, with a natural release of pressure. Carefully remove the roast from the pot, slice, and serve with the rich onion and garlic sauce.
Sauce Ideas:
Classic Au Jus: Serve the Eye of Round Roast with a side of au jus made from the pan drippings, beef broth, and a touch of red wine.
Creamy Horseradish Sauce: Combine sour cream, prepared horseradish, Dijon mustard, lemon juice, salt, and black pepper for a tangy and zesty accompaniment.
Red Wine Reduction: After roasting, deglaze the pan with red wine, then simmer until reduced and thickened. Drizzle this luxurious sauce over your sliced roast.