---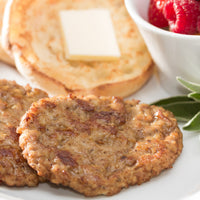 Sale
Patties: ~1lb Packs with 8 Patties/Pack
Ground: ~1 lb 
Introducing our delectable Apple Cinnamon Sausage, a tantalizing blend of apple pieces, cinnamon, cocoa, and premium pork. Bursting with flavor, these sausages are a perfect addition to your breakfast table or any time you crave a comforting and aromatic treat.
Start your mornings on a sweet note by savoring our Apple Cinnamon Sausage alongside fluffy pancakes or golden waffles. The combination of the savory sausage with the subtle sweetness of apples and cinnamon will create a delightful balance of flavors that will awaken your taste buds.
For a hearty and satisfying breakfast, try pairing these sausages with scrambled eggs and buttery toast. The aromatic blend of apple and cinnamon will infuse your meal with a delightful warmth and create a truly memorable breakfast experience.
Cooking Tips:
Pan Fry: Preheat a skillet over medium heat and add a touch of oil or butter. Cook the Apple Cinnamon Sausages for approximately 8-10 minutes, turning occasionally until they are nicely browned on all sides and cooked through.
Grilling: Preheat your grill to medium heat. Place the sausages on the grill and cook for approximately 10-12 minutes, turning occasionally, until they are nicely browned and reach an internal temperature of 160°F (71°C).
Aside from breakfast, our Apple Cinnamon Sausage can also be used in a variety of creative dishes. Slice them up and toss them into a cozy fall-inspired pasta dish or use them to add a hint of sweetness to your favorite stuffing recipe. You can even dice them and incorporate them into a savory apple and sausage stuffing for a Thanksgiving feast that will impress your guests.
Indulge in the flavors of the season with our Apple Cinnamon Sausage. Crafted with care and using only the finest ingredients, these sausages are a true delight for your taste buds. Order now and experience the perfect blend of apple, cinnamon, and premium pork in every bite.